Suburban Space, Suburban Culture, Suburban Myth?
"The suburb is neither one thing nor the other; it has neither the advantage of the town nor the open freedom of the country, but manages to combine in nice equality of proportion the disadvantages of both." From 'Architect', XVI, 1876: 33.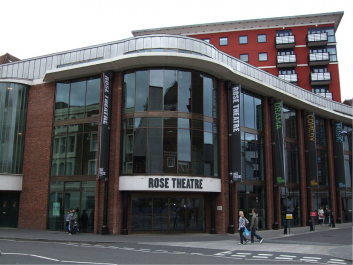 The latest issue of Built Environment is entitled 'Suburban Spaces, Suburban Cultures' and aims to "demonstrate and evaluate the significance of culture – in its various manifestations – in both shaping and reflecting the suburban built environment." Given that suburbs are commonly viewed as places that culture forgot, it is refreshing to see a built environment journal publication dedicated to suburban space and cultures. My own work on suburban theory points to the fact that attempts to find suburban cultural specificity are as challenging as trying to pinpoint suburban spatial specificity, yet viewing culture as shaping and reflecting the suburban built environment is an intriguing prospect.
Suburban Spaces, Suburban Cultures in fact defines for us a range of suburban spatial-cultural themes that are worthy of exploration. From the point of view of architectural design, the suburban stereotype of low density, detached housing, is mentioned on several occasions in this issue. Here we find a common trope in describing suburban environments as "boring", "homogenous" and "monotonous". It is an easy jump from this criticism to the accusation by Ian Nairn that suburbia constituted a "slow decay... to a world of universal low-density mess" – or, as he termed it, subtopia. Putting aside that low density is not necessarily a commonplace feature of suburbia (and several examples in this issue prove this), nor does low density necessarily equates to poor planning. Peter Hall showed in The Land Fetish that there was a limit to the amount of density achievable at the expense of providing the necessary schools, recreation, doctors' surgeries and shops (let alone the often-forgotten places to produce goods). He showed that much of the gain achieved by density ceases to be beneficial at a point where density arrives at a level similar to that of many existing suburbs. Indeed, the "enigmas" of density laid out in Suburban Spaces, Suburban Cultures, show that it is not merely something to be measured specific to a site, but something that needs to take account of the wider spatial context, the wealth and class context, and vitally, the political context within which decisions on land allocation, growth policies and so on shape everyday life on the urban periphery.
It is actually quite easy to subvert suburban stereotypes. Take the importance, for example, of suburban religious architecture - especially churches - in the context of the evolution of British Modernism. The place of religion itself in the supposedly culture-less, secular suburbs is too frequently viewed as incongruous. Taking a longer view of the UK's suburban history it is evident how important churches were in providing the foundation for new communities. Putting that aside, there are myriad examples of minority groups being drawn to particular locales due to the availability of a ready-made faith community. In the latter case, it is interesting to observe the way in which the perceived exotic, foreignness of minority religion can provide a "multiculturalism of inhabitance" as Amanda Wise has shown, to the supposedly mundane, prosaic suburban streets; serving to create a public presence for the generally hidden demographic diversity of suburban life.
Suburban public space is another important (and frequently overlooked) aspect worth considering in the context of suburban spatial cultures. My own study of London's working-class suburbs shows how utopian ideals of village greens in designed suburbs (still maintained in the verdant lanes of Hampstead Garden Suburb) can be ruined by the simple erection of a "No Ball Games" on the wall of a municipal housing estate. The importance of commons, of the woods and fields and indeed of the allotments and front gardens in engendering everyday sociability is essential, not only for functional reasons, but also for ensuring an unpoliced space in which people can roam free. When I read the recent republication by Persephone Books of the 1936 novel Greengates, I was struck by how the protagonists discover their suburban idyll by happening upon it during a walk through the woods on the edge of a newly-built estate. Of course it is easy to slip into a new suburban cliché just as one gets rid of another. Suburban public space is not just about leafy streets and beautiful landscaping. Jan Gehl's methods of designing 'in-between space' have for example been important in the way they aim to ensure that alongside providing the opportunity for micro social connections around the suburban dwellings that additional "weak ties" can be made through social connections from one locality to the next. This is a vital aspect of successful urbanism, where the presumption is that one's social life is as much dictated by social connections made transpatially (across space) as spatially (within space); the non-correspondence theory laid out so lucidly by Julienne Hanson in her critique of twentieth century neighbourhood design.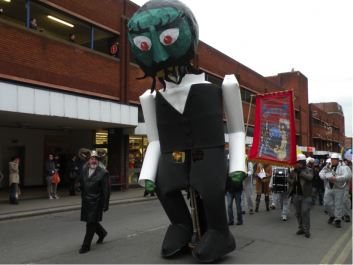 The Annual Lefi Parade fronted by Thamas Deeton, the giant of Seething, Surbiton, London.
Viewing suburbs themselves as interstitial spaces - neither suburb nor city - is of course at the root of either dismissing them as lacking in culture, or of maintaining that any culture they have is limited to the narrow world depicted in 1950s Hollywood films or 1970s English language sitcoms. It is clear that attempts to pinpoint a suburban culture are going to arrive at a dead end (if you will forgive the pun), if suburban culture is seen to be as shallow-rooted as its grassy lawns. A deeper understanding of suburban culture, if we are willing to agree that there is such a thing, will take as its starting point that its inhabitants have had a past life elsewhere. Anat Hecht illustrates this well in her ethnography of Croydon, a London suburb. In her work she writes of her informant "Nan's" material culture (or, as Nan herself puts it, her "mishmash of knick-knacks"), an accretion of memories created in a past life led in a city far away (Edinburgh). Arguably suburban culture will never be bland or uniform, once we start to take account of its emergence from the sum total of its inhabitants' past lives along with its formation in the specific context of place. David Jeevendrampillai's work on 'Being Suburban' demonstrates this, in showing how the suburbs can in fact provide - because of their supposed mundanity - an identity ready to be harnessed for the purpose of creating a new cultural imaginary that builds on a specific locality: whether in inventing a whimsical local culture or in creating a thriving local economy (and indeed the two will frequently go hand-in-hand).
References
Gehl, J (2011 (originally 1971)), Life between buildings: using public space (The Danish Architectural Press).
Hall, P (2006), 'The Land Fetish: Densities and London Planning', in B Kochan (ed.), London: bigger and better? (London: LSE London, London School of Economics and Political Science), 84-93.
Hanson, J and Hillier, B (1987), 'The Architecture of Community: some new proposals on the social consequences of architectural and planning decisions', Architecture et Comportement/ Architecture and Behaviour, 3 (3), 251-73.
Hecht, A (2001), 'Home Sweet Home: Tangible Memories of an Uprooted Childhood', in D Miller (ed.), Home Possessions: Material Culture Behind Closed Doors (Berg Publishers), 123–45.
Jeevendrampillai, D (2015), 'Being Suburban', in L Vaughan (ed.), Suburban Urbanities (London: UCL Press), 287-306.
Nairn, I (1956), Counter-Attack Against Subtopia (London: Architectural Press ).
Vaughan, L, Griffiths, S, and Haklay, M. (2015), 'The Suburb and the City', in L Vaughan (ed.), Suburban Urbanities: suburbs and the life of the high street (London: UCL Press), 11-31.
Wise, A (2006), 'Multiculturalism From Below: Transversal Crossings and Working Class Cosmopolitans ', in S Velayutham and A Wise (eds.), Everyday Multiculturalism Conference Proceedings, (Macquarie University 28-29 September 2006 Centre for Research on Social Inclusion, 2007 ).
Images
Specifically Suburban Culture: The Rose Theatre, Kingston-upon-Thames, London. Source Jim Linwood (CC BY 2.0)
Surbiton, London: The Annual Lefi Parade fronted by Thamas Deeton, the giant of Seething. Image by David Jeevendrampillai (CC BY-NC-ND 4.0)
About the author
Laura Vaughan is Professor of Urban Form and Society and Director of the Space Syntax Laboratory, The Bartlett School of Architecture, UCL. @urban_formation. Her book Suburban Urbanities was recently published with UCL Press. The book can be downloaded for free here. Print copies can be purchased here. This blog post is published under a Creative Commons Attribution-Noncommercial-NonDerivative license © 2016 (CC BY-NC-ND 4.0).
As ever we welcome Built Environment blogs and tweets on the matter!