The future of public participation?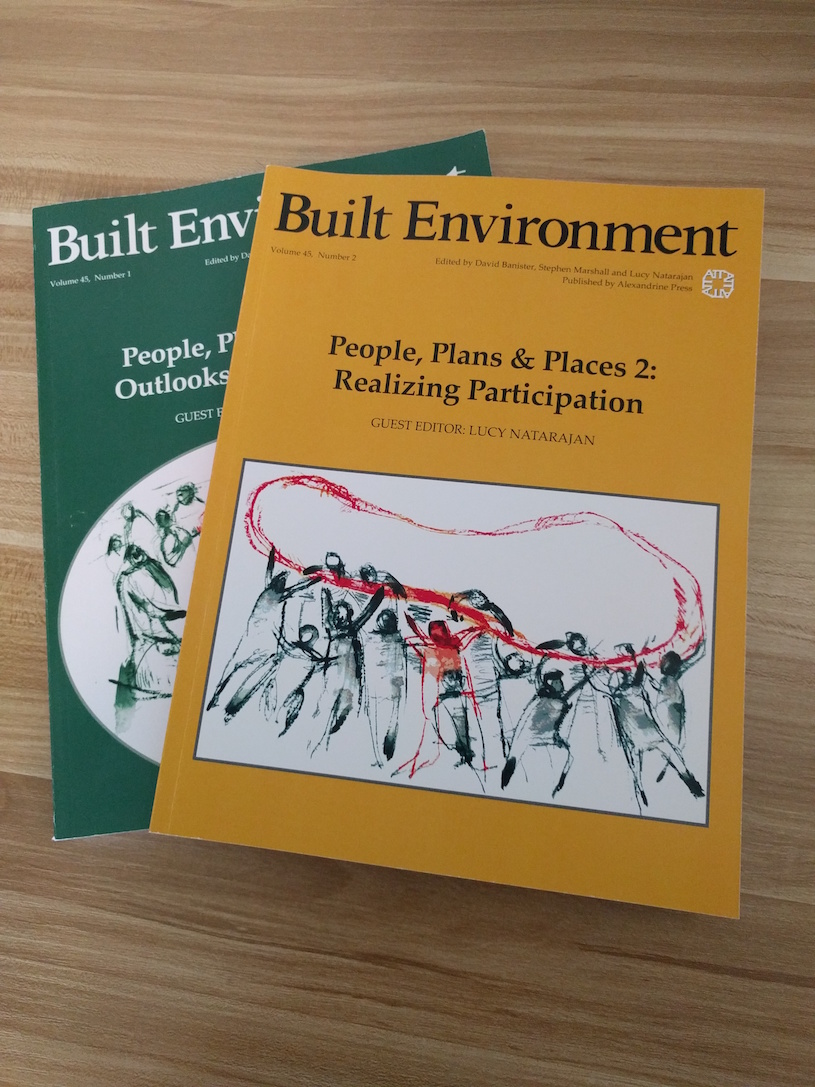 Lucy Natarajan introduces part 2 of the double issue People, Plans and Places of the double special issue of Built Environment (issues 45.1 and 45.2), both out now.
Getting real about public involvement
The power of getting involved in decisions on land use and development is undeniable. It lifts people out of a sense of frustration and cynicism, when they can control the world around them. It changes the game for planning, when it can find a route from 'social problem' to a solution that might actually work for communities. And it underpins excellence in urban design, when local knowledge shapes places and creates beauty and meaning for those who live there.
But delivering on the promise of participatory democracy through involvement in the built environment is no walk in the park. The established ways of taking collective decisions through 'representation' and the enormous advantages enjoyed by richer people and those who own land and properties, work against fairness and justice in public participation.
Our new publication People, Plans and Places (Built Environment 45.1 & 45.2) is a double special issue marking 50 years since the printing of two major works on public participation, Arnstein's ladder (1969) and the Skeffington Report (1969). As I explained in the first blog on the 'double special issue', these works were already concerned about the challenges of power imbalance and tokenism half a century ago, but the means to involvement and the expectations of getting involved have greatly expanded.
Part 2 of People, Plans and Places - Realizing Participation - examines how to make participation 'real'. It builds on Part 1 of People, Plans and Place - Outlooks on Participating - that set out the landscape of participation (Brownill & Inch, 2019). The articles in part 2 demonstrate that real participation requires new ways of thinking about who is involved and what we do together, and continued efforts to be creative in the application of different participatory methods.
The subjects addressed in Realizing Participation are very diverse, but all the authors suggest that flexibility is the x-factor for meaningful participation. Their studies of public participation look across the globe, from exchanges in networks in the Global South (mainly the African continent and South East Asia), and case studies from Brazil, Italy and the UK, through to reviews of practice in the UK and the USA. They have a range of focal points, from collaborative governance structures, the practice of neighbourhood planning, the role of facilitators, the uses of digital public interactive displays, perceptions of scale in local planning, to civic crowdfunding initiatives.
The opening article, 'Participation as Planning': Strategies from the South to Challenge the Limits of Planning, is a direct challenge to the status quo. Here, Alexandre Apsan Frediani and Camila Cociña provide a strong argument that participation can in itself be a form of planning. They bring evidence from experiences in the Global South, with insights from networks of alliances including Slum Dwellers International, the Federation of Urban and Rural Poor, Habitat International Coalition, Asian Coalition for Housing Rights, Orangi Pilot Project Research & Training Institute, FUCVAM (Federación Uruguaya de Cooperativas de Vivienda por Ayuda Mutua), Housing and Land Rights Network India, and others.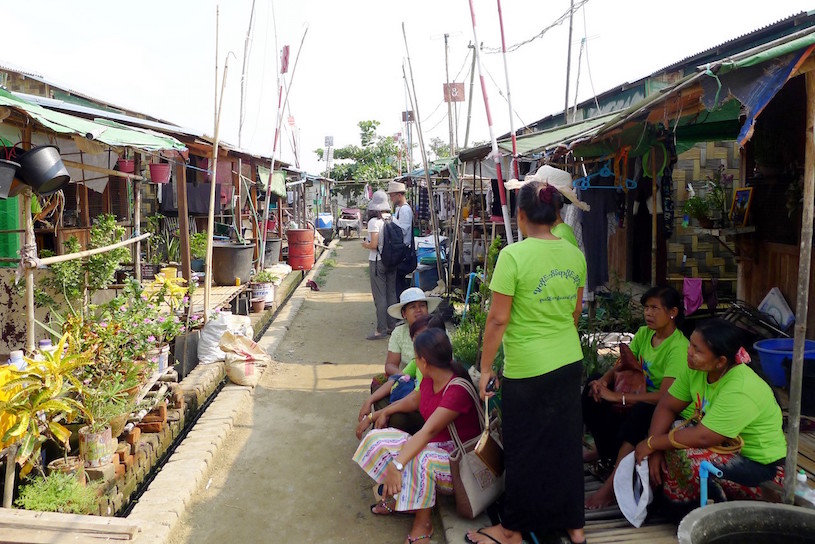 Figure 2: Women for the World network members in settlements upgraded by the community, Myanmar
Can citizens and the state be partners?
The idea that participation can be planning is echoed in other articles of Realizing Participation. It is clear that there is real power in creative partnerships between the public and institutions of the state.
Daniela Ciaffi presents new forms of collaboration in Italian cities, where citizens and governments tackle 'general interest problems' such as managing common assets. The invitation is to sit at the table as equals with responsibility, rather than seeking control by any one party, which offers a new idea about best practice in participation (a new top of Arnstein's ladder).
My own piece examines conflicting ideas about the location of social problems, during deliberations of spatial plans. This suggests that citizens and planners need to work together to determine the scale of action needed, rather than pitting bottom-up local against top-down universal protections.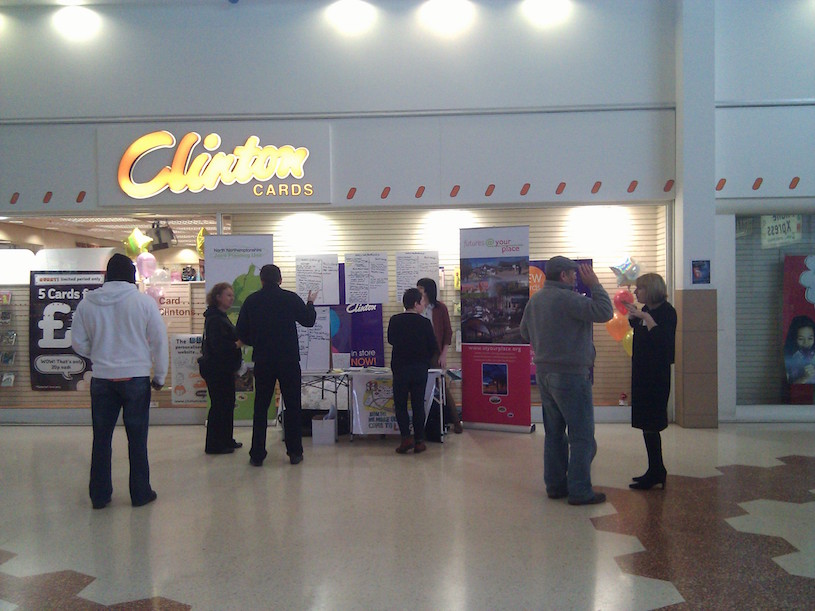 Figure 3: Deliberating spatial plans at public events, England
Silvia Gullino, Heidi Seetzen, Carolina Pacchi and Cristina Cerulli examine a case of civic crowdfunding in London to deliver a greenway or urban elevated park to connect two communities. In order to sustain the project through to implementation immense efforts are required and both parties must adapt their approaches and take on new roles along the way.
While participants can in effect be planning (or at very least part of it), all of our articles recognize the burden that comes with greater involvement in planning and place-making. Citizens need particular capacities to be 'equals' who have control and responsibility over development or take on new roles to help define, fund, and manage development solutions. It is not just a matter of financial resources and time, but also involves having sufficient skills. This produces a learning curve for participation and, as Luc-Emile Bouche Florin pointed out in Outlooks on Participation, it will be a matter of luck who can join in unless there is a strategy to ensure sufficient capacities are available.
Ana Paula Baltazar, Mateus van Stralen, Lorena Melgaço, Guilherme Arruda and Lígia Milagres recount the story of a public digital display in Brazil that was created as an interface between city authorities and the public. They explain the ideal of open digital exchanges leading to meaningful social and urban change, and how it really needed support for learning amongst citizens and the municipality.
Emily Talen's review of the ideals of neighbourhood planning looks at the realities of New Urbanism's ability to support communities in North America. Plans to strengthen 'authentic places' could become fossilized or fixed in the lines on a map; processes for 'self-generation' might not produce any actual plan. The logical inference is that plans arising from an understanding of urban form as well as processes for community engagement are needed.
Husam AlWaer and Ian Cooper investigate what works to support the involvement of the public at the design stage of development, where plans are brought into being. They argue for professional facilitation to enable design involvement for the whole community, and further support for developing those skills.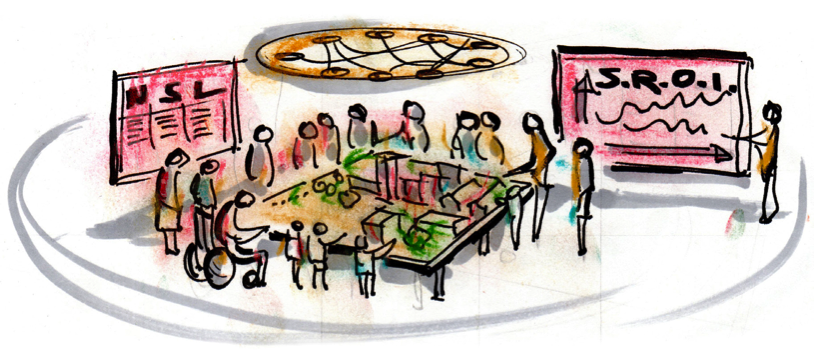 Figure 4: Facilitated design events
Moving down a rung or two?!
Does this mean that the ideal of partnership is the most popular rung of the ladder of participation? I am talking about the ladder in Arnstein's paper 50 years ago, as re-imagined here by Rob Cowan (figure 5). It would seem, that co-production has created meaningful involvement of the public in some places, however it may introduce a couple of new problems. Firstly, it is clear that support is needed to make sure involvement is open to all, but there are questions about who resources and who controls support. Secondly, communities should be ale to have a say in development beyond their neighbourhoods, because they have a stake in issues that affect the wider city, region, or indeed the whole planet. But when it comes to climate change, the issue with the widest and greatest potential impact, it seems that protests rather than partnerships are on the rise. For now, meaningful participation may continue to be a moving target, but it is sure to need enthusiasm, resources and creative responses not only from citizens and those in governance, but also from built environment professionals. We need to be awake to 'openings and closures' (Brownill & Inch, 2019) and be prepared for new partnerships.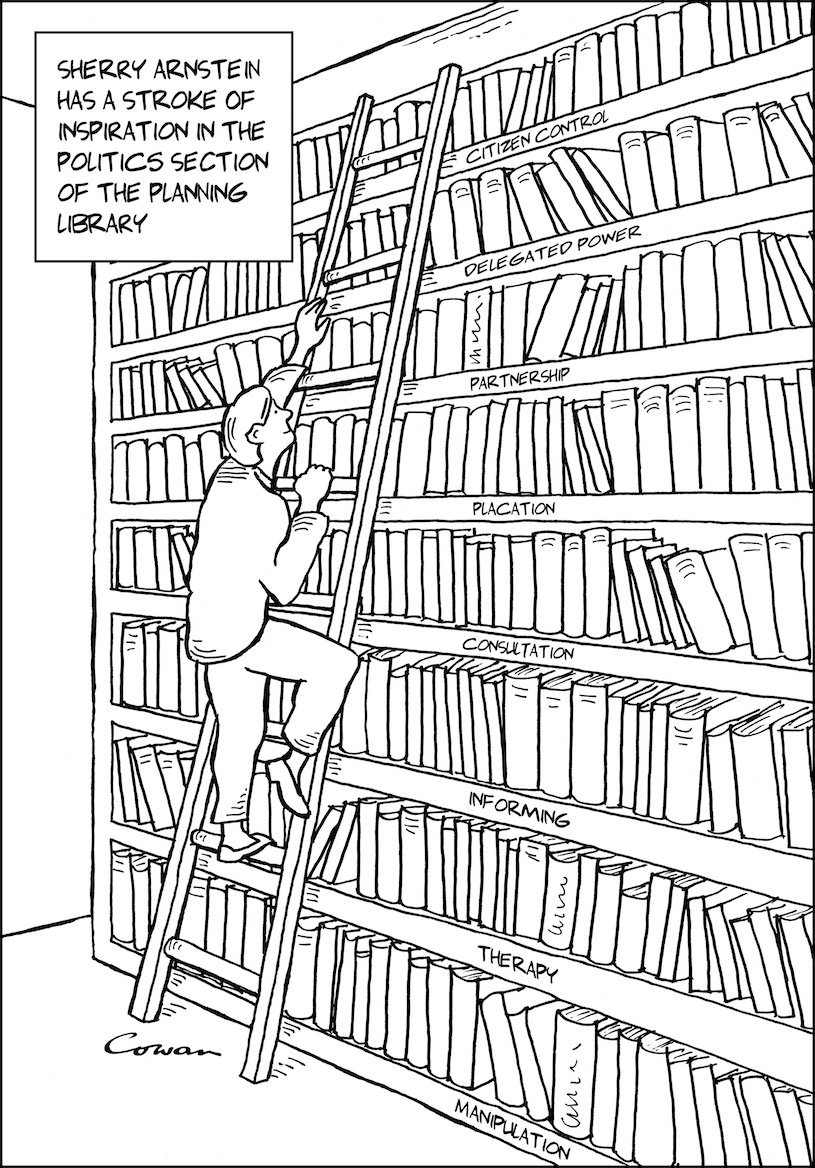 Figure 5: Reviewing Arnstein's ladder
References
Brownill, S. and Inch, A. (2019) Framing People and Planning. Built Environment, 45(1), pp.7–25.
Arnstein, S. (1969) A ladder of citizen participation. Journal of the American Institute of Planners, 35(4), pp. 216–224.
Skeffington (1969) People and Planning: Report of the Skeffington Committee on Public Participation in Planning. London: HMSO.
________________________________________________________________
As ever further Built Environment blogs & tweets on this theme are welcome, as well as comments and feedback (email lucy.natarajan@ucl.ac.uk), on either part of People, Plans and Places.
Images
Image 1: Covers of Outlooks on Participating & Realizing Participation, parts 1 & 2 of People Plans & Places (Source: Alexandrine Press with Illustrations by Yves Fauvel via ECTP/CEU, All rights reserved)
Listing / Image 2: Members of Women for the World, an organisation part of the ACHR network, in one of the settlements upgraded by the community using collective savings in Yangon, Myanmar. (Source: Camila Cociña, All rights reserved)
Image 3: Drop in sessions for discussions of spatial strategy in England (Source: Lucy Natarajan, all rights reserved)
Image 4: (Source: Joe Ravetz, all rights reserved)
Image 5: Arnstein's ladder reimagined (Source: Rob Cowan via UDS, © Alexandrine Press, all rights reserved)