The Sharing Economy and Blurring in Public-Private Relationships
Following their article on dockless bike hire problems in People Plans & Places: Outlooks on Participating, Geoff Dudley, David Banister and Tim Schwanen consider the implications of 'sharing modes' for governance networks.
Sharing Economy transport options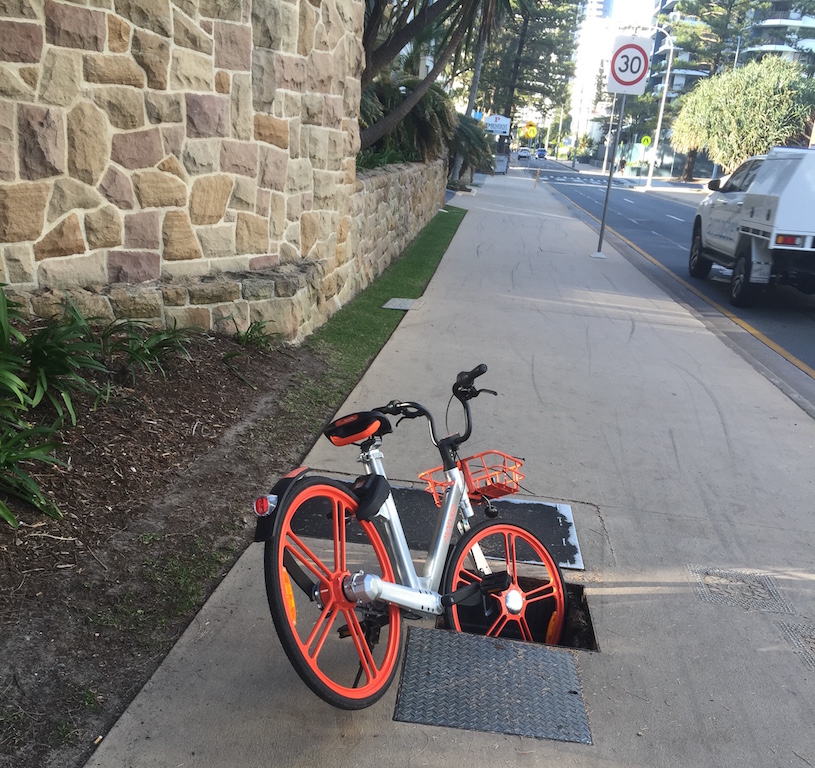 Image 1: Mobike misuse in Manchester
Now the use of digital technologies enables individuals to buy access to mobility as and when they need it, the desire and right of individuals to own and use a vehicle is no longer taken for granted. The wide range of services available includes peer-to-peer car sharing, car clubs, docked and dockless bicycle hire, electric scooters, demand responsive transport, and ride-hailing apps. It is the combination of these services into an integrated system rather than each on their own that can, at least in theory, offer a real alternative to individual car ownership. To what extent this is actually the case remains to be seen, and as we have discussed problems arise where the public is not properly involved in development and operation of services. Evidence to back up claims about the supposed obsolescence of car ownership is limited. The logic of giving up the car as the range of alternative modes becomes much more attractive can be countered by inertia in peoples' behaviours that are based more on familiarity, habit, independence, and the feeling of being in control.
The more direct effects of sharing are likely to result in a blurring of the public and private sectors where integrated mobility service providers become dominant players. The best example of this is the ride-sharing app Uber. From its foundation in 2009 Uber has adopted a strategy of worldwide expansion with market share being seen as the main success criteria. This business model has resulted in Uber making persistent losses, with the fares being heavily subsidised from the company's large-scale venture capital funds. Uber encountered widespread resistance from regulators and incumbent operators, and was forced to retreat in the face of competition from its main regional rivals in China (Didi Chuxing) and South-East Asia (Grab).
New Corporate Strategies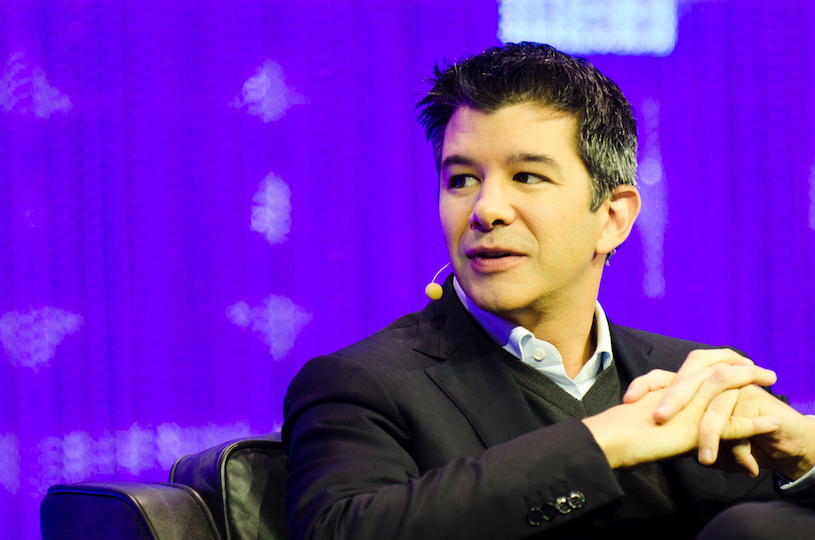 Image 2: Travis Kalanick, CEO of Uber
In 2017, the Uber chief executive, Travis Kalanick, was compelled to resign in the wake of widespread criticism of the company's business model, and his successor, Dara Khosrowshahi, adopted a more open and conciliatory approach. At the same time, there was still no sign of Uber making a profit, and in the first three months of 2019 the company made a loss of over $1.1 billion. Uber had operated as a private company, but in 2019 it took its shares to the stock market in an initial public offer (IPO) that valued the company at $82.4 billion. The IPO allowed the initial funders to recoup some (or all) of their investments, and so spread the risk across a much wider set of investors. This can have the effect of reducing the pressures to make a profit. At the same time, to maintain the share price over time Uber required an alternative to the previous model of worldwide expansion and market share. Instead, Khosrowshahi declared that Uber was now focused on executing a strategy to become a one-stop shop for local transportation and commerce, including freight. In the context of urban transport, Khosrowshahi expressed an intention for a switch in emphasis for Uber from cars to electric bicycles and scooters for shorter journeys as part of its long-term strategy, and to generally maximise the share of its market. In this new strategy, maximising market share entailed providing a range of complementary (or even competing) alternatives.
This new strategy manifested itself in 2018 when Uber acquired the electric dockless bicycle hire operator Jump for a reported $200 million. The dockless element means that the bikes are free floating, and unlocked and locked by means of a smart phone app, rather than being attached to a fixed dock. By 2019, Jump had expanded its services rapidly, and operated over 4,000 bikes across thirteen cities in the US, as well as moving into Europe, with services in Lisbon, Paris, Berlin, and London. Jump also began rolling out an electric scooter sharing system in Santa Monica, California.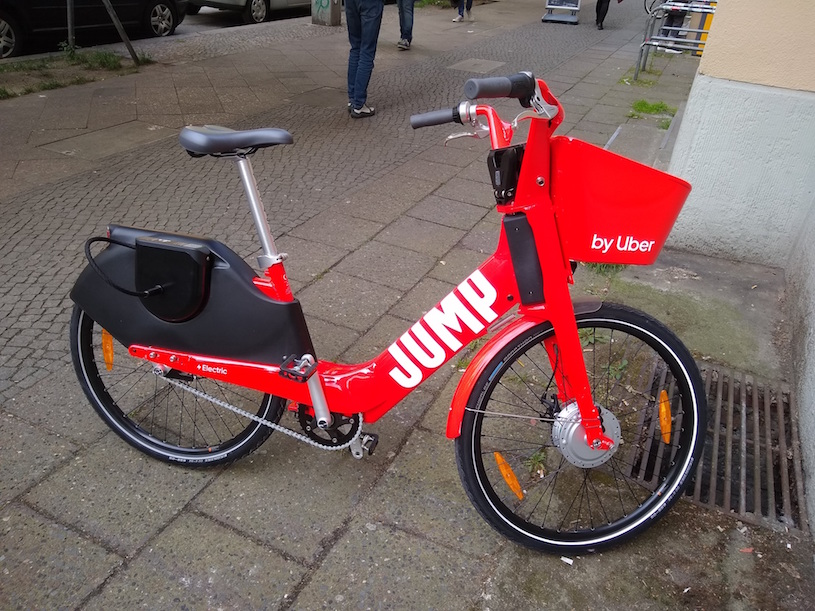 Image 3: Jump Bike
By expanding into alternative modes, sharing apps can increase the range of services they offer, but this can also create an ambivalent relationship with public transport modes, such as bus, light rail, and underground services. In terms of integration, both ride-hailing and bike hiring can be used for 'first mile-last mile[1]' services that link with public transport. One example of this integration in practice occurred when Transport for London extended its night-time underground services in 2016. In response, Uber increased its ride-hailing services to provide 'last mile' transport, and this has resulted in its cars moving from the centre of London towards the suburbs. At the same time, ride-hailing has been blamed for a decline in demand for bus services. For example, after many years of increasing demand, between 2015-16 and 2016-17, the number of bus passengers in London declined by 2.3 per cent. Although this decline could be attributed to a variety of causes, including road works and increased congestion, the presence of ride-hailing, together with bike and scooter sharing schemes, can threaten public transport services.
Blurring effects
Expansion can also create an ambivalent relationship with local authorities. On the one hand, the expansion of sharing services can assist in achieving policy goals of creating integrated transport services. At the same time, a decline in public transport patronage such as the bus (rather than a decline in car ownership) can heighten economic pressures to increase subsidies, and political pressures to maintain unprofitable, but socially necessary, services. Ironically, in these circumstances local authorities can call on ride-hailing apps to fill the gap. This has occurred particularly in the United States where, at a fraction of the cost of traditional public transport services, ride-hailers can provide a point-to-point ride. For example, in San Clemente and Dublin in California, local officials cancelled fixed-routed buses with the lowest ridership, and provided discounts for people to travel in Uber and Lyft (the other principal US ride-hailing company) services. In addition, Phoenix in Arizona is discounting the price of ride-hailing trips to and from 500 city bus stops, while Denver in Colorado is offering free Uber rides to suburban light rail stations. If local authorities become more dependent on ride-hailers to provide socially necessary services, then this increases the political leverage of the companies in policy decisions and the framing of regulations.
Similarly, the generation and distribution of data is another area where relationships between the public and private sectors can become more ambivalent. From one perspective, companies such as Uber can therefore work with local authorities to use travel data to improve the quality of the service and information available to the user. In addition, there are higher order and longer term effects, including concerns about overall service coverage, special needs transport, service integration, urban planning, and congestion reduction strategies. For example, in the US the city of Boston and Uber have created a partnership that leverages data provided by Uber. This provides insights to help manage urban growth, relieve traffic congestion, improve public transport operation, and reduce greenhouse emissions. There is also scope for Uber and local authorities to share data on their respective services. A recent example here is provided in London, where in 2019 Uber has integrated London's public transport data into its app. This shows users the fastest and cheapest way to get between destinations using London Underground and buses, in addition to the ride-hailing type services provided by Uber. The company's long-term ambition is to build a full journey planner that combines cars, public transport, and Uber's Jump bikes (and eventually scooters, which are currently illegal on UK roads and footpaths) when recommending routes to users. In this respect, it aims to become an alternative to Google Maps and Apple Maps for journey planning.
This type of journey planner can assist local authorities in the integration and promotion of services. At the same time, the journey planner itself can become a valuable resource that is controlled by Uber, and on which the local authority is dependent for the promotion of its services. As in the cases where Uber and other sharing apps provide substitute services for public transport, the companies can enhance their political position by becoming indispensable to local authorities. This shift in the power balance can in turn improve the companies' potential to expand their position, as distinctions between the public and private sectors continue to become more blurred. These new relationships also highlight questions of trust and institutional structure, including how much autonomy can, or should, local authorities give to ride-sharing apps.
________________________________________________________________
As ever further Built Environment blogs & tweets on this theme are welcome, as well as comments and feedback (email lucy.natarajan@ucl.ac.uk), on either part of People, Plans and Places.
Images
Image 1: Best use of a Mobike? (Source: CC Alistair Paterson, All rights reserved)
Image 2: Travis Kalanick, CEO of Uber (Source: Heisenberg Media via Wikimedia, https://en.wikipedia.org/wiki/Uber#/media/File:Travis_Kalanick_LeWeb.jpg CC BY 2.0)
Listing / Image 3: Jump Bike. (Source: Geoff Dudley, All rights reserved.